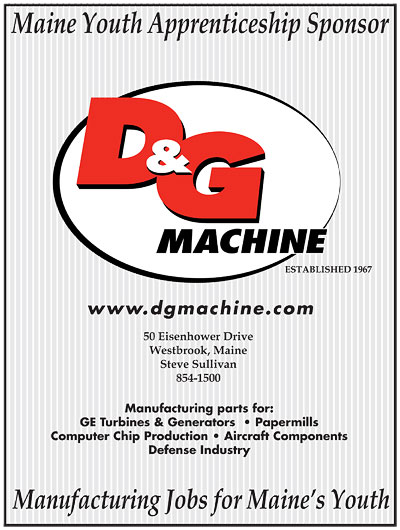 Youth Apprenticeship
D&G Machine actively promotes Youth Apprenticeship Programs.
Partnering with local Southern Maine Community College, D&G supports educational training in Manufacturing Technology Programs.
D&G offers part and full time employment while students go to the 1 or 2 year certified programs.
---
Apprenticeship Profiles
Matt Burr, D&G Plant Manager:
Began as a part time employee at D&G working in the general machining department while attending his junior year of high school. Matt then attended SMCC sponsored by D&G before he became full time in the Machining Department. After 10+ years of service and attending night school for management classes, Matt was promoted to Production Manager. In 2016 Matt was promoted to Plant Manager.
Dave Gushee, Company Founder and President 1967 - 1995:
Southern Maine Community College:
Associates Degree in Precision Machining and Manufacturing
Certificate Program for CNC Machine Operator
Mind Over Metal - download pdf
From Gridiron to Machining Iron - download pdf