Quality
At D&G, our philosophy of operation is based on a commitment to continuous quality improvement, and excellence from all company personnel through active participation and involvement.
The continuous quality improvement program empowers all employees to contribute to ongoing improvement. Statistical measurement, employee involvement teams and formal corrective action provide a solid foundation for quality improvement.
Elements of quality control:
Director of Quality
Six Sigma Quality Initiative
Quality Document
Program Conformance
Inspection Department
Facilities and Equipment
Designated Inspection Areas
Coordinate Measuring Machine - PC-DMIS Software
Vacuum Testing Facility
Varian 959 Turbo Leakdetector
Mag Particle Testing Machines
Hardness Testing - Rockwell or Brinell Scales
Conductivity Testing - Verimet 4900C
Granite Surface Plates
ID/OD Micrometers (6'3 ID to 48" OD)
Profilometer
Bore Gauges
Thread Gauges
Pin Gauges
Gage Blocks
Height Gages
Verniers (to 50")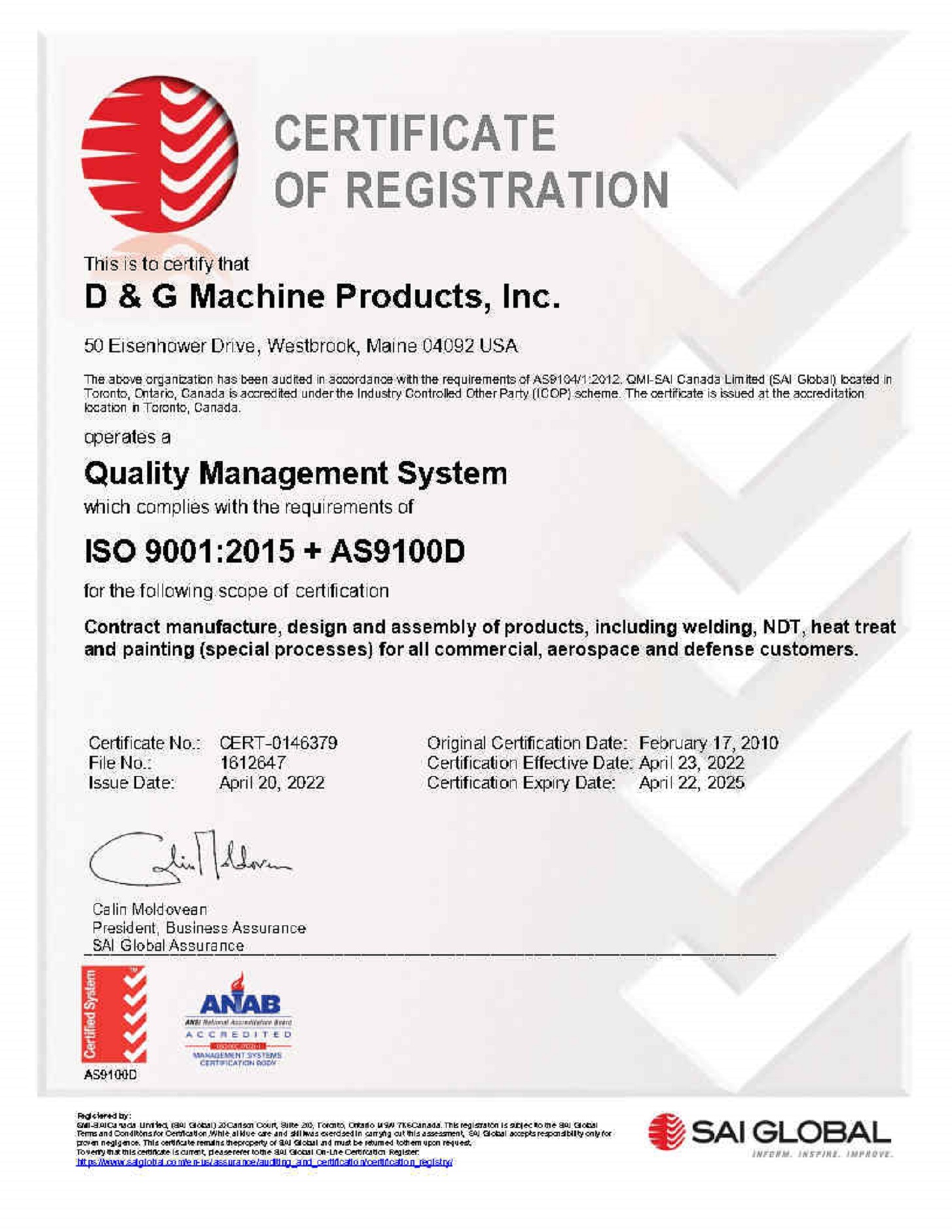 click to enlarge
Quality Commitment
D&G, an AS9100D, ISO-9001:2015 registered company, is committed, via formal corporate policy, to manufacturing products of the highest quality level achievable, consistent with the requirements specified by both the customer and the applicable codes and standards of construction.
We execute this policy by implementing a rigorous quality program that is described in our ISO-9001 procedures. These procedures are working documents that define the methods and assure that all activities affecting quality are addressed and documented, as required.
Program Conformance
Our quality program conforms to the criteria of many of the recognized quality standards. Below is a partial list of some of these standards:
AS9100D, ISO-9001:2015
ASME sections I and VIII, and ANSI B31.1.
ISO 10012-1, ANSI/NCSL Z540-1 and Mil-Std-45662. - Calibration System
Inspection Department
The Inspection Department organizationally functions independent from the normal pressures associated with production. Highly trained and qualified inspection and nondestructive examination technicians comprise the inspection department. Below is a list of services and qualification provided:
Certified Vacuum Testing
Non Destructive Testing
Magnetic Particle Testing,
Liquid Penetrant Testing
Visual Weld Inspection
ASQ Certified - Certified Mechanical Inspectors, Certified Quality Technician